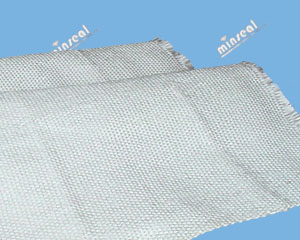 Minseal fiberglass cloth is a woven fabric manufactured from texturized fiberglass yarn. The texturization provide enhanced insulation property. Minseal fiberglass cloth is an ideal material for various thermal and acoustic insulation, high temperature seal and protection.
Characteristics and Specs
Heat, spark and flame resistant, temperature rating 1000°F
Chemical resistant
Low thermal conductivity
High tensile strength, no stretch or shrink
High dielectric strength
Typical Applications:
Welding blankets, safety blankets, curtains, expansion joints, protective and insulation covers or shields.
Commonly Used Fiberglass Cloth Styles:
3310G Fiberglass Cloth, Standard Industrial Grade
3310W Fiberglass Cloth, Stainless Wire Inserted
Variants and Sizes:
Also available: Heat treated, PTFE Coated, Silicone Coated, Vermiculite Coated; Plain Weave(standard), Twill or Satin Weave(optional)
Commonly Used Fiberglass Cloth Sizes

| Item Code | Weight | Thickness | Width | Length |
| --- | --- | --- | --- | --- |
| 3310G-13D015 | 13 oz | 018" | 40" or 60" | 50 Yard |
| 3310G-18D038 | 18 oz | 1/32" | 40" or 60" | 50 Yard |
| 3310G-24D052 | 24 oz | 052" | 40" or 60" | 50 Yard |
| 3310G-30D065 | 30 oz | 1/16" | 40" or 60" | 50 Yard |
| 3310G-53D110 | 53 oz | 1/8" | 40" or 60" | 50 Yard |