CeraTex® Ceramic Fiber Paper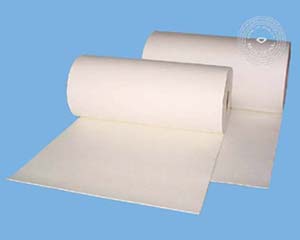 CeraTex® Paper is an alumino-silicate ceramic fiber-based non-woven fabric. It is manufactured through a special paper-making process with high purity washed fibers, suitable for high temperature insulation up to 2300°F.
Characteristics and Specs
Lightweight,  low thermal conductivity, high temperature stability, excellent handling strength, low heat storage, good dielectric strength, thermal shock resistance, chemical and corrosion resistance (commonly used acid and alkali), excellent sound absorption and excellent fire protection.
Fiber Diameter: 3 – 4.5 microns
Fiber Shrinkage (1800°F, 3h): < 3.5%
Working Temperature :         1,800 °F. for Continuous Use, 2300 °F Maximum
Specific Heat (@2000°F):      0.27 Btu/lb °F
Typical Applications:
Insulation, lining and gasket for furnace, kiln, oven, stove, boiler and appliance;
Wrapping for high temperature pipe or metal casting;
Aerospace insulation, protection and shields;
Thermal insulation, gasket, seal, separator for ceramic and glass melting applications
Fire protection, spark and molten metal protection
High temperature electrical insulation
High temperature filtration
Seal, gasket or protection for other high temperature applications
Product Styles:
3170 CeraTex® Paper
Product Variant and Sizes
Thickness: 1/32", 1/16", 1/8", 1/4" Width: 24" and 48"
Also available with aluminum foil back